The only thing more enjoyable than having a good hobby is having two good hobbies – and being able to indulge them both at the same time. That's why I was so excited when I first got a glimpse of Interweave Knits' special issue "Jane Austen Knits". Regency history and needlecraft? The combination was as enticing as chocolate and coffee. (Some things are just made to go together.) But does "Jane Austen Knits" live up to its promise?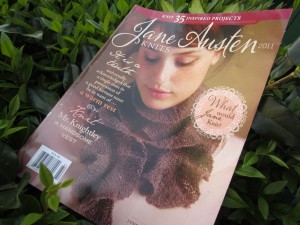 The Articles
If you're more a history buff than a knitter, this is where you'll find the meat of the publication. The magazine includes 8 articles and essays, ranging from the scholarly ("The Mighty Muslin" and "Regency Fashion in Color") to the journalistic (like the profile of a woman who sells sewing patterns for Regency-era clothing).
My favorite of the articles is the essay that graces the last page of the publication: "Jane Austen, Multitasker" by Rebecca Dickson. It's a loving profile of Austen herself, highlighting her work ethic both in her writing and in her needlecraft. Austen's example is an encouragement to any woman trying to pursue a dream while also handling the mundane details of life.
The Patterns
This magazine contains a generous 36 patterns, and they're all beautifully photographed. Instead of trying to reproduce period-accurate clothing, the patterns are instead simply inspired by Austen's work, taking Regency details and translating them into wearable modern clothing.
Despite this modernization, I can certainly see Georgiana Darcy wearing her namesake shawlette, a gorgeous lace affair, or Elizabeth Bennet carrying the Diamond and Cross Reticule to a ball a Netherfield. More modern patterns include the sleek Elinor Tunic, and the exquisitely detailed Lambton Top and Fiori Pullover. Most of the rest of the patterns fall somewhere between the sensibilities of the 1800s and those of today.
On my own to-knit list? The simple Short Stays vest, the Woodhouse Spencer and, someday, when my knitting skills improve, the jaw-droppingly gorgeous Meryton Coat, a beautifully stranded jacket inspired by the military uniforms of the era.
Conclusion
So, did "Jane Austen Knits" fulfill my hopes for a publication that promised to combine two of my favorite hobbies? Emphatically, yes. And, if you share my love of knitting and of Regency history, I'm happy to point out that it's now on sale over at Interweave. I should also note: I bought my own copy of this magazine and haven't been compensated for this review in any way. All opinions in this post are my own.
Peace of Christ to you,
Jessica Snell