Vanessa here,
As I reflect on 2015, I am thankful. This has been a year of building an audience for multi-cultural Regency Romances, ones where faith and passion for life and love are central. Today, I am showcasing one of the stories, the award winning, Unmasked Heart. Meet the duke and his problems.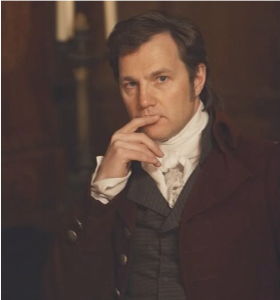 William St. Landon, the Duke of Cheshire, leaned against the mantle of his study, resisting the urge to bash his skull against the fretwork trim. He looped his finger into the carved maple and pushed himself upright, allowing the rag of a society paper to slip to the ground.
That hateful gossip would stop at nothing. The woman or her army of wenches would even invent whale-tales to quell his investigation. With a side kick from his boot, he pushed the awful page onto the braid rug, one of the many items of his late wife's choosing littering the London townhouse. The only good thing produced by Elizabeth was their precious daughter asleep in the nursery.
He craned his ear, but no shrieks sounded. His little Mary had no nightmares, tonight. Maybe she'd dream peacefully until the morn. If only God would allow it.
With a shake of his head, he smacked his skull. If prayers had true answers, not just a means to express contrition or condemnation, then maybe he'd drop to his knees, dust his breeches, and give it ago, again. But that wasn't his lot any more. A backslidden fool his father would call William.
Well, that didn't matter. He'd stopped listening to the man years ago. And now William just savored the music of calm, the absence of noise. The little hiss from the hickory in the firebox metered an occasional refrain.
His chest filled fully, maybe for the first time since arriving at Mayfair. What a horrid day, one filled with no answers or true name or names of the blackmailer discovered. And this…warning.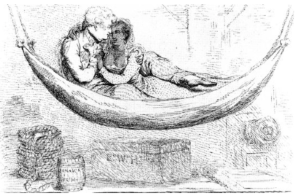 "Wowski's song
White man, never go away;
Tell me why need you?
Stay with your Wowski, stay;
Wowski will feed you.
Cold moons are now coming in;
Ah don't go grieve me!
I'll wrap you in leopard's skin;
White man, don't leave me."
A groan welled inside as his gaze focussed on the reprint of the 1778 James Gilroy caricature. The scandalous drawing of Prince William Henry, the Regent's brother, caught in an affair with an enslaved Jamaican woman. At least the poor woman wasn't made grotesque like others had done when characterizing dark-skinned females.  But Gilroy still mocked her, calling her Wowski.
"Wowski," William said with a groan. It was the name of a black servant in the play Inkle and Yarico, in which Inkle falls in love with an Indian maiden who saves his life but then sells her into slavery for profit.
Rubbing the stiffness from his jaw, he headed for the sideboard. The housekeeper had left him a sweet biscuit and mug of coffee. The coffee had to be cold with his hours of pacing the length of the room, but the fragrant bits of fresh crusty pastry still clung to the air. Suddenly hungry, he popped a flaky morsel into his mouth and let the buttery goodness melt upon his tongue. With his thumb, he traced the edge of the silver tray. Slow, steady circles, he made and listened to the small squeaks formed betwixt his flesh and the shiny surface. The chirps would make his beloved daughter clap her hands and smile. Would she try to imitate the sounds as she once did? Why couldn't her rose-petal lips push out a syllable?
Nothing but hellish cries. A child of four should be able to speak.
His throat dried. His gut ached as if he'd been stabbed by a dull knife. He dusted off his hands and returned to the paper's garbage and her parting thrust.
"Seems there's a cheshire cat who grins like the Prince, but which Wowski will he choose?"
He scanned it again and crumbled the page, throwing it into the fire. The flames blazed and spit for a moment, then quieted. Truth had that affect too, coming from nowhere, torching the land, then settling into place. He had to be honest with himself. William did fancy anything that was the opposite of the lithe blonde deceiver formerly called his wife. That included honest eyes, a non-lying tongue, and silky skin that didn't shun his touch.
Mary's cry pierced his fogged mind and his heart. He trudged out of the study toward the stairs. London, this house, everything that screamed Elizabeth, he needed to be away from it. If he couldn't stop the rumormongers, maybe it was time to leave. Retreat wasn't an option that set easily on a military man's shoulders, but this time it might be for the best. The gossips wasn't above lies or innuendo. And if his clumsy attempts at finding the gossips set the dogs chasing Mary's paternity, he'd never forgive himself.
---
William's story released June 15th, Unmasked Heart.
Shy, nearsighted caregiver, Gaia Telfair always wondered why her father treated her a little differently from her siblings, but she never guessed she couldn't claim his love because of a family secret, her illicit birth. With everything she knows to be true evaporating before her spectacles, can the mulatto passing for white survive being exposed and shunned by a powerful duke who has taken an interest in her?
Ex-warrior, William St. Landon, the Duke of Cheshire, will do anything to protect his mute daughter from his late wife's scandals. With a blackmailer at large, hiding in a small village near the cliffs of Devonshire seems the best option, particularly since he can gain help from the talented Miss Telfair, who has the ability to help children speak. If only he could do a better job at shielding his heart from the young lady, whose honest hazel eyes see through his jests as her tender lips challenge his desire to remain a single man.
Get your copy of Unmasked Heart now at Amazon. It is available in Print, ebook, and audiobook.
---
References:
http://www.greatcaricatures.com/articles_galleries/nypl_gillray.html
Peter Pindar's Pair of Lyric Epistles (1792): "Lo, like a Cheshire cat our court will grin."
http://www.spanglefish.com/slavesandhighlanders/index.asp?pageid=222459
Caricature: (1788) by James Gillray from La Rochelle Museum of Slavery showing a young European with his 'wousky' – a term also used by George Pinckard in his Notes on the West Indies (1796), p317. The man is, in fact, Prince William Henry, the younger brother of George III.
Originally posted 2015-12-30 08:02:36.